A book published by Elsevier is in preparation based on the Summer School.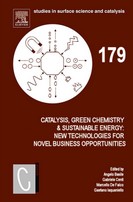 STUDIES IN SURFACE SCIENCE AND CATALYSIS

Published by Elsevier, both in print and online as an e-book and via Science Direct making it accessible to a wide audience, Studies in Surface Science and Catalysis is one of the oldest and most cited series in the field. It offers a privileged view of the topic covering the theory, applications and engineering of all topics of catalysis.
CATALYSIS, GREEN CHEMISTRY & SUSTAINABLE ENERGY: NEW TECHNOLOGIES FOR NOVEL BUSINESS OPPORTUNITIES
Editors: Angelo Basile, Gabriele Centi, Marcello De Falco and Gaetano Iaquaniello
Preface to the book
by guest editors: Angelo Basile, Gabriele Centi, Marcello De Falco and Gaetano Iaquaniello
OPPORTUNITIES FOR INNOVATION & BUSINESS
Preface to the section by G. Iaquaniello
Ch. 1 - The vision of future sustainable energy, catalyst & chemistry: Opportunities for innovation & business (A. Basile – CNR/ITM, G. Centi – Univ. Messina, M. De Falco – University "Campus Bio-Medico" of Rome, G. Iaquaniello – Processi Innovativi)
Ch. 2 - How green chemistry is going to change the chemical engineering (G. Iaquaniello – KT)
Ch. 3 - Building the future of green chemistry (A. Susa – Tecnimont)
Ch. 4 - Green Economy and Economic development (Steven Strauss – Princeton University)
Ch. 5 - Bio Refinery and Green Diesel: process and product innovation (G. Rispoli - ENI)
Ch. 6 - Oleo-chemistry: opportunities & Challenges (A. Zarli – Processi Innovativi)
Ch. 7 - Nanotechnology for green materials and processes (P. Ciambelli - Univ. Salerno)
METHODOLOGIES FOR GREEN CHEMISTRY & ENGINEERING
Preface to the section by M. De Falco
Ch. 8 - Process simulation for the design and optimization (M. De Falco - University "Campus Bio-Medico" of Rome)
Ch. 9 - Calculate the production costs of your own process scheme (E. Palo - KT)
Ch. 10 - Assess green processes by LCA and related methodologies (R, Salomone – Univ. Messina)
SELECTED EXAMPLES AND CASE HISTORY
Preface to the section by Angelo Basile
Ch. 11 - Making a new chemistry with CO2 (K.J. Schouten – Avantium)
Ch. 12 - Waste feedstocks for sustainable chemicals and fuels (A Salladini –Processi Innovativi)
Ch. 13 - PET depolimerization: a novel process for plastic waste chemical recycle (Maurizio Crippa – GR3N)
Ch. 14 - Bio-Polymers Engineering – (M. Barletta – UNIROMA III)
Ch. 15 - Biorefinery concept: strategies for new green solvents (M. Bravi – Uniroma 1)
Ch. 16 - Fermentation & biochemical engineering: principles and applications (V. Piemonte - University "Campus Bio-Medico" of Rome)
Ch. 17 – New strategies enhancing the feasibility of microalgal coltivation (F. Pagnanelli – UNIROMA La Sapienza)
Ch. 18 - Ultra-compact Bio-fuels catalytic reforming processes for distributed renewable hydrogen production (V. Palma – Univ. Salerno)
Ch. 19 - Fuel cells: opportunities and challenges (S. Campanari – PoliMilano)
Ch. 20 - Novel green-processes and technology using membranes (A. Basile – CNR/ITM)
Ch. 21 - Design of catalyst and electrode for photo-catalytic water splitting (Yongdan Li – Aalto University)
Ch. 22 - Artificial leaves using sunlight to produce fuels (Siglinda Perathoner)
Ch. 23 - Solar-thermal power and chemical engineering: new opportunities (Martin Roeb)
MAKING BUSINESS WITH NEW TECHNOLOGIES
Preface to the section by G. Centi
Ch. 24 - How to make a business plan (B. Masciocchi – Processi Innovativi)
Ch. 25 - How to protect Intellectual Property and obtain patents (J. W. Goedemakers – MT)
Ch. 26 - Leveraging Intellectual Property for commercialization of research (S. Vannuzzi, ERIC aisbl)
Ch. 27 - The Role of start-Up companies in creating job opportunities (G. Bardazzi – Maire Tecnimont)
Ch. 28 - Creating a winning start-up in green chemistry (P. De Stefanis)
Ch. 29 - Writing competitive research proposal and Fund raising (P. De Stefanis)